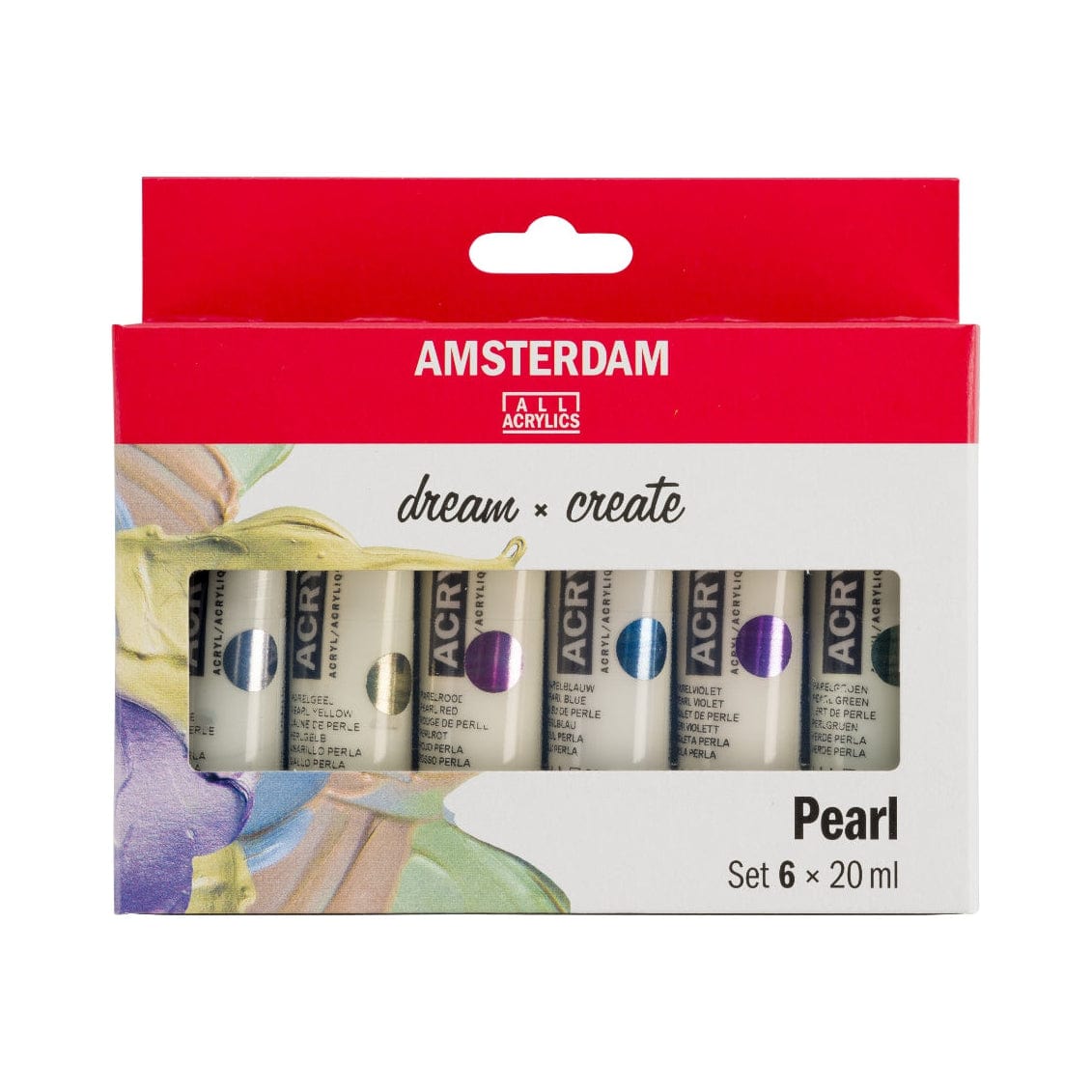 Standard Series Acrylic Paint Pearl Set | 6 x 20 ml
Size:
Paint pearl set | 6 x 20 ml
In stock
Try out all six of Amsterdam's specialty pearl acrylic colors with this starter set! Use them on their own or mix them with transparent colors to create new metallic shades. Apply them in thin layers on dark surfaces to maximize the pearlescent effect or add a subtle shimmer to light surfaces. Contents: 6 x 20 ml tubes (817 Pearl White – 818 Pearl Yellow – 819 Pearl Red – 820 Pearl Blue – 821 Pearl Violet – 822 Pearl Green). Amsterdam Standard Series Our Standard Series offers you the broadest range of remarkably vibrant acrylic colors. This versatile paint is easy to work with and offers a smooth application. Use the paint straight from the tube or thinned with a little bit of water or one of our acrylic mediums. Medium viscosity paint for visible brush strokes, texture and smooth coverage with a satin finish Made with high-quality, lightfast pigments Formulated with 100% acrylic resin binder, resulting in an exceptionally durable and flexible paint film with a uniform degree of gloss Odorless, water-based formula that becomes waterproof and permanent when dry Extensive range of 90 colors with a great variety in opacity, including 17 Specialty Colors (metallic, pearl and reflex finishes) Adheres to virtually any slightly porous surface, including canvas, paper, cardboard, wood, stone and cement Proudly crafted in the Netherlands Keep our planet clean Our goal is to make the world bold and colorful with our products, but we also want to protect our planet. That is why we are working hard to reduce our plastic use and look for more sustainable alternatives. This 100% recyclable packaging is made from recycled cardboard that is sourced and produced locally to further minimize its carbon footprint.